The playing field has changed. For as long as we can remember the battle between sports sedans has been centered around the BMW M3, the Cadillac ATS-V, and the Mercedes-AMG C63. All are tried and true—bringing a hefty dose of luxury to their respective drivers. That is, until the Alfa Romeo Giulia Quadrifoglio arrived.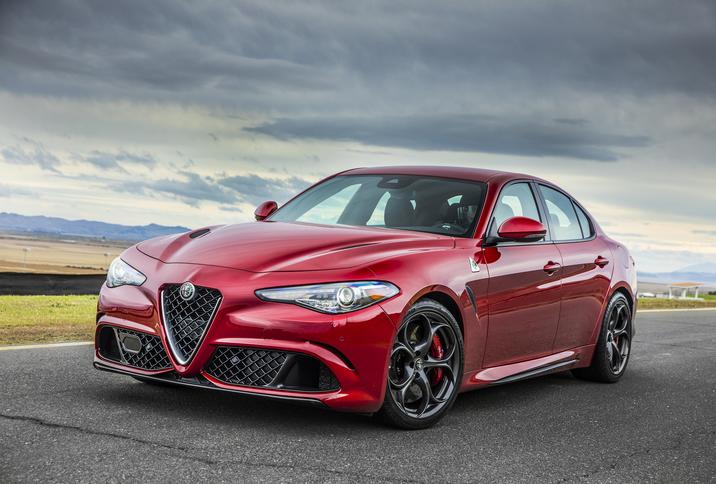 Many new cars in today's day and age are using metals that are lighter in weight to thus make the car lighter. The Giulia is no exception. The hood, front splitter, roof and rear spoiler are all constructed with carbon fiber—and it's LIGHT, really light. Visually, the exterior is downright stunning. Quadrifoglio four-leaf clover badges have been strategically placed on the most potent parts of the vehicles—driver's front-side included. Alfa Romeo did something simple but also rather genius with this car. They realized that they needed more than the distinct grille to set them apart. The automaker developed distinct color options that have paid off big-time, the
distinct color choices also set this model a part—Monza Red Metallic and Misano Blue Metallic exterior color options are quite honestly stunning. The sublime hint of pearl in each color provides a unique breath of fresh air to the line-up on sports sedans on the road today.
What's underneath the hood is no laughing matter either. Power is supplied by a Ferrari-derived 2.9-liter twin-turbocharged V6 engine. This gives the car 505 horsepower and 443 pound-feet of torque putting it at the top of its class. This 21sy Century Italian Great can go from 0 to 60 in only 3.8mph second and can amass a top speed of 191mph—Here's why a ZF-sourced eight-speed automatic gearbox pairs perfectly with the merciless engine.
The interior largely feels like that of a luxury performance vehicle. The appointments are sleek and strong, this is no Cadillac. Most everything is wrapped in leather and the front seats are reminiscent of a massage chair in Brooks Brothers. It's 2018 People! So, of course, an 8.8-inch infotainment system comes standard with onboard navigation, the Harman Kardon audio system, Bluetooth, Apple CarPlay and Android Auto. For technology not equipped in the car, there is three USB ports to keep them all charged up.
This car is a force to be reckoned with. It's so exciting for us to be able to house the 2018 MotorTrend Car of the Year. We invite you to come-in, appointment or walk-in , and experience the future of Alfa Romeo for yourself first-hand.