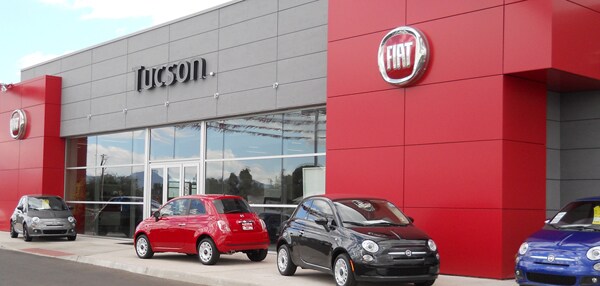 Allow Larry H. Miller Alfa Romeo and Fiat of Tucson to Introduce Ourselves
You might know us as a popular FIAT dealership, serving the greater Tucson areas. We are... But, that's not all we are. We're your neighbors with a vested interest in keeping you safe and confident while you're on the road. That's why we choose to sell new FIAT and used car models. It's also why we offer first-rate FIAT service and certified FIAT parts for sale.

Some cars go down in history for their technological or stylistic innovations. Others deserve to be remembered sentimentally for the role they've played in the daily life of an entire generation or country. But few succeed in combining the two - technology and sentiment - and leave an eternal mark.
Now in over 80 countries, the FIAT 500 has evolved into a beloved global icon, winning the hearts of passionate drivers, motor journalists and judges alike. Most recently winning 60 international awards, including being named 2008 European Car of the Year and 2009 World Car Design of the Year. Additionally, FIAT MultiAir Technology was recognized as the "Single Most Innovative Engine Technology" of 2010 by the International Engine of the Year Awards panel. Now that's love.
At Larry H. Miller Alfa Romeo and FIAT of Tucson we have strong and committed specialists with many years of experience satisfying our customers' needs. Our commitment to treating you in a neighborly fashion extends from our inventories and auto repair service to our no-frills, easy-to-comprehend auto financing. This comes not only in the form of car loans and leasing for drivers from Tucson, Casas Adobes, Catalina Foothills, Oro Valley, Marana, Green Valley, Rio Rico and Nogales but a tenacious spirit dedicated to getting the flexible terms you deserve. We look forward to the opportunity to introduce you to the Alfa Romeo and FIAT brands!