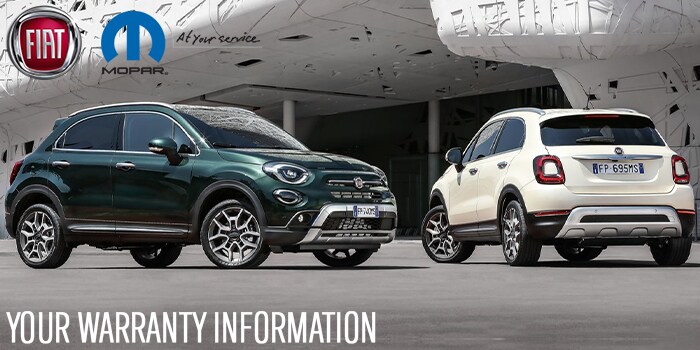 WE'VE GOT YOU COVERED
Where will life take you in the next four years? Late night adventures, or day time trips to the store. There's so many places to go and explore, and as a member of the FIAT family, we are here for you. Unexpected repairs are all a part of owning a vehicle. That's why with the FIAT 4-year/50,000-Mile Limited Warranty, we'll always be there along with you on the ride.
Did you Know?
Most vehicles from the Fiat brand come with Roadside Assistance Service**! If you're stuck on the side of the freeway with a flat tire, or in a parking lot with a dead battery, you can count on us. Support is always just a phone call away.
Service Contracts Backed By FCA.
Your favorite warranty just got better, by complimenting your warranty coverage with MOPAR Vehicle Protection. They provide you with the added confidence of knowing that covered service are performed by our Certified Technicians using genuine Mopar parts at our Fiat dealership in Tucson.
California Emissions Standard Warranty.
In California, new vehicles are designed and built with an emission control system that is equipped to meet the state's strict anti-smog standards. If you happen to come across any emission-related part on your vehicle that is defective, we will diagnose, replace, or repair the part at no charge to you. In addition, if your vehicle fails a smog check inspection, we will make all necessary repairs and adjustments to ensure that your vehicle passes the inspection.
MOPAR Parts and Accessories Limited Warranties
Our vehicles are powerful machines that get you where you want to go, and we rely on them to get us there for years to come. There are so many working parts that work together to make that happen, and we want to ensure that those parts on your vehicle are protected against defective workmanship or defects. There are Mopar products that have separate warranties, with different time and mileage limitations. Some of those parts that are not included in the Basic Limited Warranty are:
Batteries, Brake Pads/Shoes, Collision Parts
Shocks/Struts, Catalytic Converters, Mufflers
Gaskets and Seals, Starters, Powertrains
Alternators, Diesel Parts, Water Pumps, and Performance Parts
Want to Read a Full Warranty? Check It Out Here
*Terms and conditions of warranties vary by brand and vehicle. See your dealer for complete details or sign in to download a copy of your vehicle's warranty. Warranty may be restricted or denied if your vehicle or part has been modified, improperly maintained or removed.
**See dealer for full details.